This is a weekly meme hosted by the always awesome Haley of
.YA - Aholic.
For MLF you will post that if you had a magic lamp what would you wish for? It can be anything from meeting your favorite author, wishing you had a book way before it was released, or well anything!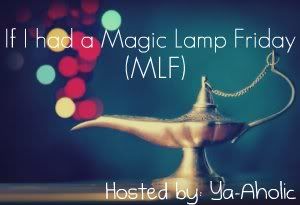 Okay so I guess my wish this week is one that MANY people are wishing right now...
Since school starts for me next Tuesday, my first wish is more time. When school ends the first week of June, I always look forward to the summer, thinking about how long it's going to be, and all the things I will have time to do. BUT every year, I get shocked when I realize that school is right around the corner. With less than four days to go, I'm trying to fit everything in, kicking myself for procratinating so much. If only I had more time...isn't that what everyone says?