This is a weekly meme hosted by the always awesome Haley of
.YA - Aholic.
For MLF you will post that if you had a magic lamp what would you wish for? It can be anything from meeting your favorite author, wishing you had a book way before it was released, or well anything!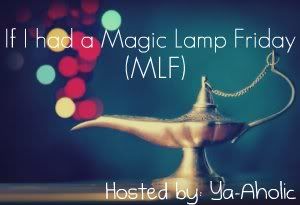 Okay so I guess my first wish is one that MANY people are wishing right now...
What wouldn't I do to get my hands on a copy of this coveted book..hmmm..something to think about right! But seriously guys, I can not wait until September 27th because that's the date that I'm FINALLY going to get a copy of this on my bookshelf. I even have the date all marked up on my calender..no kidding! The bad thing is that I was on Goodreads reading some teasers from this book...BOY was that a horrible idea or what..now I just want to read this EVEN more than before. Ugh guess I'm just going to have to wait like everybody else...
For my second wish..I need one of these..no wait..ANOTHER one of these!
I have way to many books on my desk waiting to be put in their rightful place on a legit bookshelf, but sadly, I have no more space!
So, those were my wishes for this week! Drop by again next week to see what I wish for next time around!! Also, be sure to stop at Haley's Blog over at
.YA - Aholic.
for all of the deets for MLF!! I hope you guys join in too! It's always fun to wish for things!